A to Sziget: An Alphabetical Catalogue
21 Aug 2015
Hey. So, I just got back from my second time at Sziget - A 7 day long behemoth of a festival which takes place on a small island in the Danube River in Budapest, Hungary. I've written about it before, and spoken at some length about how it's a bit of an ordeal, in many ways - Whether it's the lack of sleep or the overdose on Hungarian food and alcohol, few people escape it unscathed. And yet, we go back. Why?
Because it also happens to be utterly excellent.
Anyway, I pretty much always wanna write something about a festival after I get back from one, so here's this year's gimmick.. I mean... Highly thought out blog post idea. An A-Z of Sziget 2015. It kinda doubles as a chronological timeline. How did I manage such an incredible feat? By playing fast and loose with my own rules. This whole blog is an exercise in vanity anyway. So let's get on with it...
A is for Aquincum
This time around, me and my cohorts arrived in Budapest a day early, and we stayed in a hotel called The Aquincum. Apparently it's like, an important historical reference, but we mainly chose it because we thought the name sounded funny.
Our arrival was smooth enough and we felt ready to go. Then things started to get interesting.
B is for Budapest
Well, there's no point arriving early if you don't see any of it, is there? So we headed out to find a highly recommended spa, which we eventually did - And it was lovely, even if the indoor bits were closed by the time we arrived.
We followed that with an incredible meal at a restaurant called Kéhli Vendéglő, which I thoroughly recommend - I'm not sure what I ate, but I think it was pork and I know it was delicious. A few drinks later and we decided to turn the evening into a night out, by visiting one of Budapest's famous Ruin Bars.
Our bar of choice was a place called Instant. A lot of alcohol was consumed. I lost my glasses. I woke up very hungover for the first day of the festival. None of these seem like particularly good outcomes, and you're right, they aren't - But I am glad we went and got to experience this side of the city, before it was too late...
C is for Cocktails, Cro
The drinks that enticed us into going out? Long Island Iced Tea.
After moving onto the island and getting our tent set up in a woodland ditch, we found a bar and ordered some buckets of long island iced tea. Are you seeing a pattern yet?
The residents of Long Island and their delicious iced tea have a lot to answer for - all told these cocktails, usually in buckets, formed a huge part of our alcohol consumption for the week. And the first day of the festival was no exception - I'm not sure how much any of us really remember Robbie Williams...
One of the acts who made me wonder if I'd been drinking too much (Turned out I hadn't) was Cro, a german rapper who wears a panda mask. At first I thought this was utterly bizarre, but his tunes are actually really good and I guess it's like a Daft Punk kinda thing. Either way, the (mostly German) crowd lapped up his set, and I've got a new Spotify obsession.
D is for Dreher, Dancing
Not to make it sound like the festival is all about drinking... But in some ways it was, at least for us. The beer at Sziget is a cheap little number called Dreher. I don't really like beer but even I had some of it on several occasions.
Alcohol and music combined only has one outcome: Dancing. I'm pretty sure some of the shapes we pulled were so outrageous they can never leave the island. Among our repertoire were such popular dance moves as "floppy man jumping around", "wiggly legs with arms in the air" and "going absolutely fucking mental during Taio Cruz".
E is for Enter Shikari
Ah Enter Shikari. You were just what I needed to inject some energy into Wednesday night. They've been around for a few years now but I've been hearing from a lot of people that the Shikari have matured in recent years into a top quality live act, and those rumours were true - They have.
"Sinking... I don't know how we'll get to shore again..."
- Torn Apart (Enter Shikari)
"Torn Apart" is one of my favourite songs right now, with an apt chorus about the Sziget lifestyle and their sizzling performance of that song, plus many others, jolted me to life for the night to follow.
F is for Follow You Deep Sea Baby
God, we heard this song a lot. Europe loves this shit. And now I do too.
G is for Getting Sleep
Nope. You don't. Sorry! Sziget's trademark 24/7 party atmosphere means that music is banging away at your eardrums almost all the time, and this year we had an additional spanner in the works: The fact that it was outrageously hot. It's no joke to say that the days were spent seeking out shade and ice and cooling mist, while the nights were just about cool enough to enjoy dancing in and moving around.
Mid 30's in the day. Low 20's at night. There was no point I felt comfortable in my tent, temperature wise. What little sleep I did get, I got mostly in the Chill Garden - An outdoor area with tree coverage and a few cushions. And of course, that was all at about 5 in the morning when the acts I wanted to see had finished playing.
H is for Hollywood Undead
Party animals Hollywood Undead announced themselves, a few songs into their set, with the following immortal speech
"We are Hollywood Undead, and we love to fuck. We are Hollywood Undead, and we like to fucking party. We are Hollywood Undead, and we like to throw fuck parties."
Fair enough.
I is for Irie Maffia
Every year, the Sziget organisers nominate a song to be the official Sziget anthem. This year, the honour fell to Irie Maffia, who also played the first day. This song played between every set and during most of the parties at the main stage so I thought I'd include them. Besides, what else begins with "I"? There weren't any igloos.
J is for Jaguar Skills
I've seen Jaguar Skills a number of times, and he always delivers. Jag is a true DJ, with the ability to mix records like nobodies business, unleashing mashup after mashup like he's shooting them out of a machine gun. This time around, his encore (Taking place at around 4:30am) featured a remix of the Tetris theme tune, Rage Against the Machine and Paris by Kanye and Jay Z. The absolute highlight of the Telekom Party Arena stage this year.
K is for Kensington
Because I listen to all the acts on Spotify, it's rare for me to see an act without having any idea what to expect. There is however, always room for a surprise, and one of the best surprises this year was Kensington, who rocked the A38 stage and really impressed me with their setlist and crowd interactions.
If this had been a headline set then I'd have been impressed. It was that good. Thoroughly recommended, this dutch band need to make their way over to British shores so I can see them again.

OMFG. Best show in the history of everything. #SZIGET, brilliant, absofuckingluty. We love you! Pic by Bart Heemskerk pic.twitter.com/tigxjyqPpf

— Kensington (@kensingtonband) August 11, 2015
L is for Langos
Langos is fried bread covered in sour cream, cheese and usually some kind of meat. I guess it's the Hungarian equivalent of a pizza, which means that by law it is as addictive as crack.
That wouldn't be a problem if it wasn't ridiculously filling, and laughably hard to digest. After your first Langos you want another one. A few days later you never want one again because you're pretty sure the ones you've already had are still blocking your stomach. Then you walk past the stand again. You see the word "Langos" written in chalk, and a smiling man waiting to cover your next Langos in cheese. You reach for your wallet.
The cycle continues.
M is for Martin Garrix
Before Martin Garrix had left school, he was a world renowned DJ with a mega smash hit on his hands in the form of "Animals". The song itself was relatively inoffensive to me, I like a good bit of dance music and there wasn't much wrong with the track.
Unfortunately, the world of electronic dance music took to Animals like the app store took to Flappy Bird. Within a month every song in the world was trying to emulate the 'big house' sound of Animals, and honestly, it kinda pissed me off.
So I wasn't expecting much from Tiesto's little prodigy, but whether it was the alcohol or his genuine ability to throw a party, I really enjoyed this set. Glowsticks in hand, we happily jumped along to nearly every track for an hour and a half.
Kid Garrix gets some bonus points for acknowledging that this is 2015 and putting his whole set straight on Youtube the moment he got home. Here it is!
N is for Nero
If Martin was the surprise dance act of the week, then Nero were the act I expected to nail it - And they met those expectations. The new tracks "The Thrill" and "Two Minds" are both absolute bangers, and these guys made staying up late worth the while.
O is for Oliver Heldens
Was Sziget heavy on the dance music this year? Yes, it was. But you won't hear me complaining when the quality of it was this good. Fresh off his successful handful of singles, Oliver Heldens lit up the Telekom Party Arena with some quality remixes. Plus, we were dancing next to a giant fan for this performance which kept us cool, which was really appreciated.
P is for Parties
Every year, Sziget has 'parties' on the Main Stage. There's the bubble party, the confetti party, the flag party, the colour party. To be honest - They're a bit shit. But I didn't drink enough Palinka this year to justify giving the P slot to that, so here we are.
In all the Sziget photos and youtube videos etc they tend to make a big deal out of these parties, especially the colour party, wherein people throw coloured dust at each other. It makes a pretty picture, and great footage, so I can see why they do it. But I've been to two Sziget's now and this bit has sucked both times. For one thing, I don't need any more dust in my throat than is already in there!
Q is for Quest
On the final day of the festival, we checked into a hotel during the day so we could head back to the festival for the final acts, then at the end of all the music retreat to the city to sleep there that night and have a full day in Budapest on the Monday. Naturally, we had a wash (SO GOOD) and a lay down (YESSSS) and put the TV on for a bit.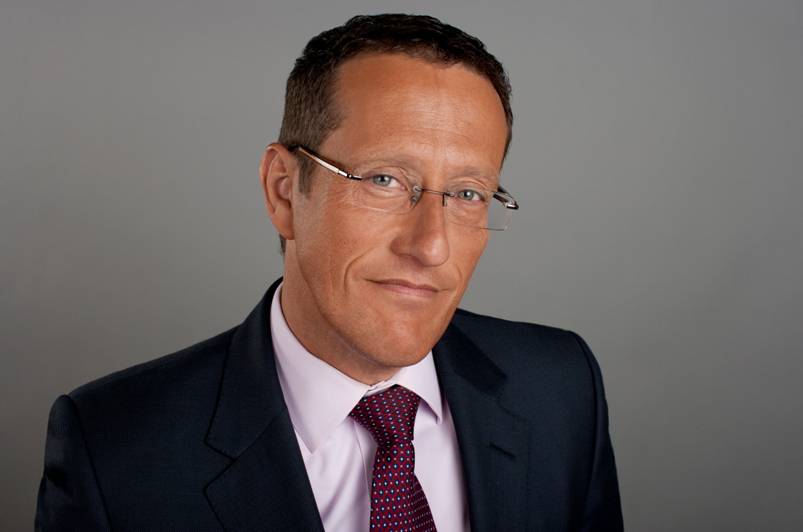 The only English speaking channel was some sort of global CNN feed, featuring: RICHARD QUEST, who's main talent in life seems to be being a cross between a penis and a performing seal. He would point at the screen and belligerently ask his guests whether they would call the current situation a "war" or a "crisis". They wouldn't. He'd pretend they had regardless.
Thanks for the entertainment, America!
R is for Rain
In the morning on the final day, a rumble of thunder peeled across the island of Sziget, followed by a hefty amount of rain. It was the first of three thunderstorms, each more violent than the last.
The finale party at the main stage heralded the second storm, which rolled in and sent most of the party goers running for cover. Except us who were happy to dance in the rainy section of the Unicum bar, knowing we had a nice hotel to go to. Unfortunately, this storm would ultimately claim a life when Fynn Henkel, a young German actor, was killed by a tree collapse the following morning.
His camp site wasn't so different from ours, and it's a sobering thought to consider that any one of us, if not careful, could end up in a similar situation at a festival of this nature.
The final storm caught us in the city, and by caught us, I mean it got us good. This one was powerful too - There was flash flooding in the Metro and parks, with traffic lights and internet and various bits of power knocked out across the city. It was like standing in a very powerful cold shower, instantly soaking us through.
We jogged between a couple of covered areas and waited a while before deciding just to walk through it, as we were already as wet as we could possibly get. I think the locals must've thought us a bit mad, laughing and strolling through ankle deep water, casually dropping into a McDonalds absolutely sopping wet to get a burger to go and eating it outside in the rain.
That's the story of how my phone got broken, by the way. I might as well have thrown it in a lake.
S is for Sigma
The final act of Sziget for us was Sigma, who you may know from their several recent songs that have performed admirably in the charts. They played some of their old stuff too, which was cool, and by the time "Nobody To Love" had begun to end, we all felt like we'd squeezed every last drop out of Sziget 2015.
With tired legs and fried minds, we headed out of the gates for the final time this year.
T is for Trófea
If you haven't figured it out by now, me and my friends aren't exactly fans of doing things in moderation. So when we discovered the location of an all you can eat restaurant called Trófea Grill, we headed there for dinner to try and bankrupt the place.
I'm not sure we managed that, but I did have some nice barbecue chicken, a sizable amount of venison and a disturbing number of glasses of pineapple juice.
U is for Unicum
At Sziget 2014, we drank a lot of Unicum Next - It's a mild flavour and easy to drink, mixes well with Redbull.
This time around, we upgraded to Unicum Szilva - A plum flavour variant with a higher percentage and a slightly more manly reputation. Plus, it still tastes great with Redbull! The cocktails may have been many, but Unicum is the drink which says "Sziget" more than any other. Any spare time of a night was to be spent at the Unicum Bar, racking up the Plumbombs - I think we've spent enough money there to put one of their bar girls through Hungarian Uni.
V is for Veterans (Victims?)
One of the hilarious aspects to this year's Sziget, was just how terrible an idea it felt at all times.
"WHY DID WE COME BACK HERE!?"
- Us
Our position of knowledge made it very funny to us that we decided to put ourselves through this again, because I know I make it sound like a total blast in these insightful blogs, but make no mistake: Sziget is hard work. Almost every day we were there was like a personal challenge to overcome, to the point I almost felt like we should've been collecting for charity. Sziget is not for the weak. Sziget is too tough. Let's never do this again.
W is for Wanting to go back
Let's go back!!
It is inevitable. No matter how hard it gets or what happens to you or how much money you spend or how many personal possessions you lose... You'll want to go back.
Maybe it'll be as soon as you walk out the gates. Maybe it'll be your first day back at work. Maybe it'll take a couple of weeks until you listen to the playlist or see a Facebook post from the organisers. It happens to all of us.
X is for Xenophilia
OK, cards on the table. There's two meanings of "Xenophilia". One of them is about having sex with aliens. I mean the other kind.
Specifically, I mean love of foreigners! Sziget is a multi-cultural melting pot, and it's great fun meeting people from different countries. One of the opening gambits you can use in every conversation is "Where are you from?", and whether you're dancing with the Dutch or gallivanting with the Germans there's a whole world of people to hang out with. Or you can meet someone from up the road and have a pint with them, too.
Y is for You
Even though I don't necessarily intend it that way, I know a few people will read this blog as a Sziget advertisement. With that in mind I think it's important to note that Sziget is a personal choice. Really, if you decide to go, then Sziget is all about you. It runs on the power of every individual who comes to the island, everyone who decides to be part of this party nation for 7 days and say "fuck the real world we'll fix that later".
The festival is what you make it. You could easily go and sit in a tent for 7 days, but that's not the real Sziget experience - It's the sum total of all these moments and everyone elses, and there's something kinda beautiful about that. It's not up to Avicii, or Kasabian, or the organisers... It's up to us.
Z is for Zeniths
Each of us experienced incredible lows and euphoric highs at Sziget - Ultimately, it's about whether those balance out for the individual. For me, the festival has this unique identity so intertwined with so many outstanding memories, it's no wonder I end up wanting to return. All the hardship seems like nothing compared to the highlights.
I felt it most clearly when looking up at the fireworks on the final day. Dance hits were still pouring out of the speakers, the weather was turning to shit but the sky was full of these explosions, signalling the end.
"I did it. I can't believe I survived. Again!"
Every negative thought I'd had that week just washed away, leaving only pride and a slight, growing sadness that it was all going to be over and I had to go home.
"Don't worry, " my mind chimed in helpfully.
"There's always next year."