Sziget Survival Guide
24 Aug 2014
Every year, on an island in Budapest, Sziget Festival opens it's doors to hundreds of thousands of party goers and music lovers.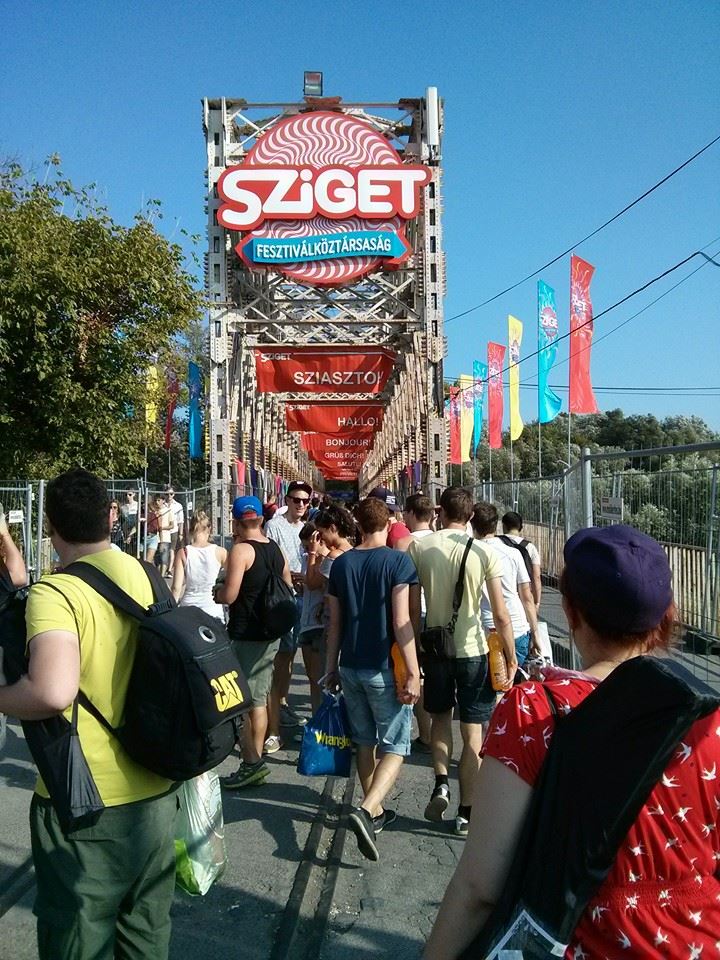 One week later, it spits you out - A destroyed version of you. A remnant.
That's because Sziget isn't just a festival - It's a siege. It is baselines assaulting your skeleton every single second for a whole week. It is the psychological torment of running on no sleep. It is laying in a woodland hole dotted between hours of standing and bouncing and dancing and chanting.
It's also a lot of fun. But don't let that fool you - If you're going to Sziget, you need a survival guide. So here we are.
Assembling your crew
For a week long festival, you need a dependable team of people. Partiers who don't crack under pressure. Drinkers who never stop. Invincible allies.
Or, you could do what I did: Ask your friends and see if any of them are dumb enough to say 'Yes' to your latest crazy idea.
You are fucking mental if you try and do this festival on your own. Luckily for me, I had Josh, Nick and Amy - It wasn't always smooth sailing, but I don't think I could have done it without them.
Travel
Getting there and back isn't impossible, but it can be a pain in the arse. Avoid British Airways and Opodo. Never trust any company that claims to be able to sell you a train ticket, because as far as I can tell, a good train doesn't exist. You'd have better chance riding there on a Unicorn.
The buses in Sziget are hilariously old. I think they're all older than I am, creaking along the roads shuttling people from Budapest's main airport to the island.
Luckily, taxis in Budapest are awesome. And cheap. Assuming you assembled a crew, you can split the cost to make it even cheaper. Sziget encourages you to buy a citypass wristband to get cheap public transport, but it's not really worth it - You can walk most places once you're in the center.
Getting Started
In previous years, the first two days of Sziget have been reserved for no acts, or local bands - Making them relaxing moving in days.
No such luck this year. It was packed by the time we arrived on Day 1, with revellers turning up early to witness Blink182, The 1975, QOTSA, Deadmau5, Jimmy Eat World and more.
This meant that we camped in a ditch. An actual, literal ditch. This isn't a nice field at Glastonbury, it's actual woodland. If there wasn't a stand selling beer and burgers down the road it would be like real camping.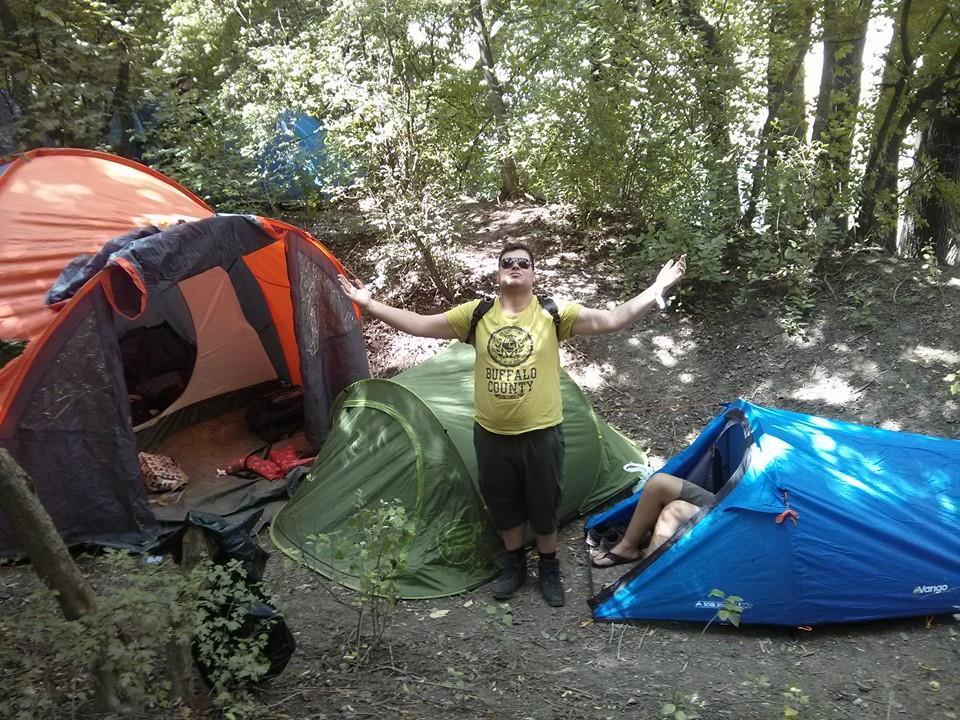 The one other obvious difference is the never ending bass. It never stops. It follows you to your tent. To the toilet. Into your dreams when you manage to get half an hour of trippy sleep. You cannot escape it. It is a part of you now. Embrace it.
After setting up badly in the semi-dark, we headed out and tried some palinka, followed by seeing some Blink 182.
Then, we discovered the best place in the universe.
Find your happy place
Every festival has a place which you will be drawn to. A base of operations, a meeting point if lost. For us, it was the Unicum Bar near the Main Stage - A wooden construction which served three varieties of the Hungarian beverage Unicum, had fun music and a system where each Unicum you bought earnt you a token - Tokens could be redeemed for Unicum swag like sunglasses, t-shirts and shot glasses.
The original Unicum is a must-try, but it is of course: Totally disgusting. Lucky for us they have Unicum Next, a flavour for foreigners and women, or something. It's a lot nicer, and we started mixing it with red bull to make what we liked to call 'cumbombs'. As you can imagine, all manner of sexual innuendo was employed throughout the week. Childish but always funny.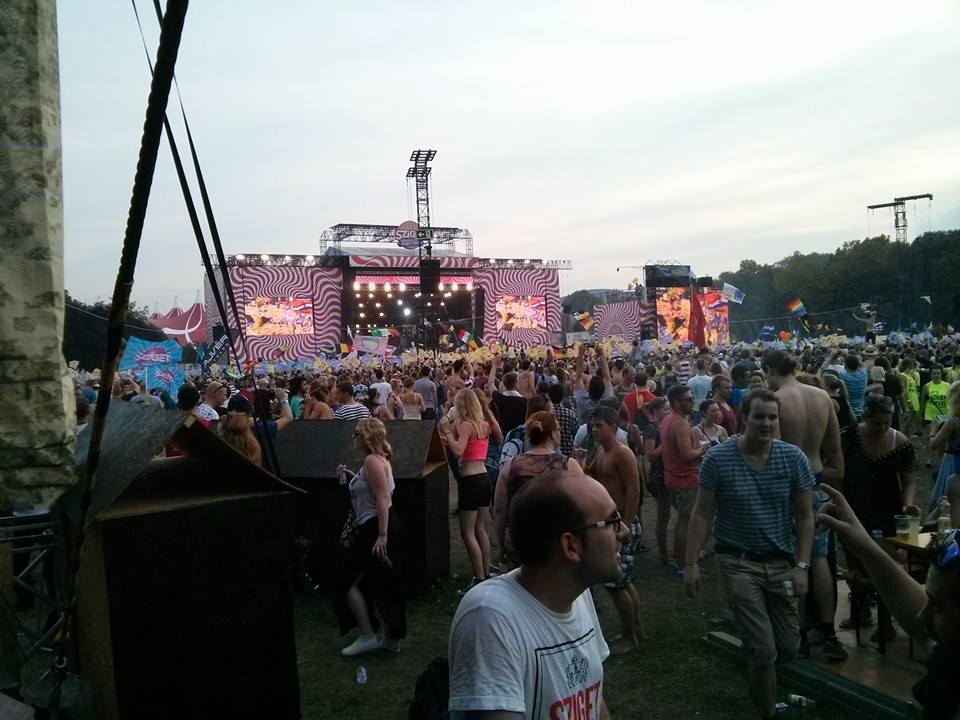 Josh liked it here so much that he got a bit lost and slept on a nearby bench on our first day. It was the start of a lot of alcohol to come.
The Crowds
Day 2 brought with it the first full schedule, which meant a lot more bands, and a lot more crowd.
The crowd at Sziget is much like other festivals, and often whipped into a total frenzy. The moshing began in earnest at A Day To Remember, and at the end of the day me and Josh checked out The Bloody Beetroots, who were incredible - The crowd swarmed the support structures of the tent, climbing up dozens of feet into the air in a throbbing mass of bodies.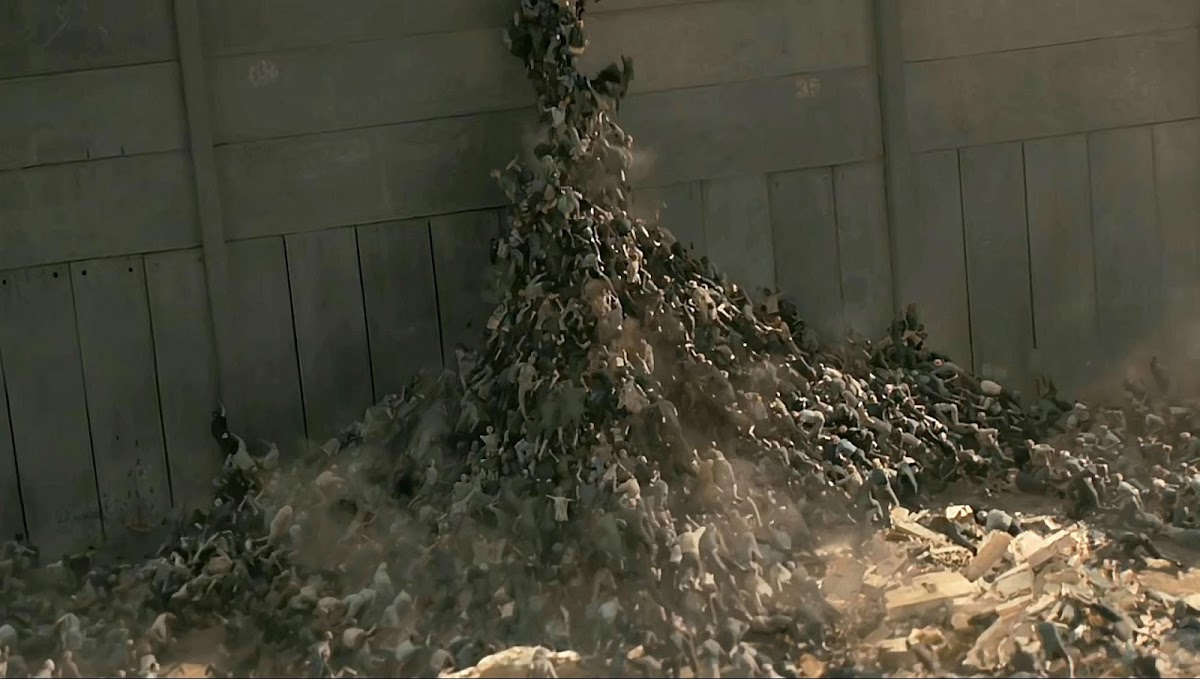 We would go on to see a number of insane crowds throughout the week. Expect mayhem.
Get Involved
Staying up for those gigs and getting involved is a must. Those crowds? You're a part of them, and you better bring your A-game. Warmed up by Imagine Dragons and Placebo, Day 3 belonged to Skrillex. We definitely got involved that night, sweating profusely in the chaos of the mosh pits forming everywhere.
Of course, there's so much that you should be doing to get involved, and it's not just about the music - Drink the local drinks, eat the local food, try the Ferris Wheel, the Skybar - There are so many opportunities and you need to take them to make it all worthwhile.
Monopoly Money
The Hungarian Forint exchange rate is stupid. The money we were spending was in forint, and it was loaded onto these contactless cards so we could pay quickly.
It might as well have been Zimbabwe Dollars. Dogecoin. Space bucks. Credits. Lol money. Magic. It meant nothing to us, so we spent a lot of it. Everything was so cheap, and I still ended up spending a huge amount.
The Bad Things
The night of Day 3, we would miss out on Clean Bandit, wait for hours for Madeon only to have him not turn up.
By now, we were nearly half way through the festival, and that meant that 'the bad things' were starting to happen. Amy was throwing up like clockwork. I had blisters on my blisters. We were all so very tired.
On day 4 we would walk for ages in search of burritos which didn't exist, then get seperated completely for the brilliant Macklemore set. Kavinksky would disappoint, and I would develop a nasty insect bite.
On day 5, after an otherwise fun day, my condition would take a turn for the worse - After popping the bite with some tweezers, I would spend a late night hobbling to the first aid tent to be prescribed anti-biotics for a leg which I can only describe as: Fucked up.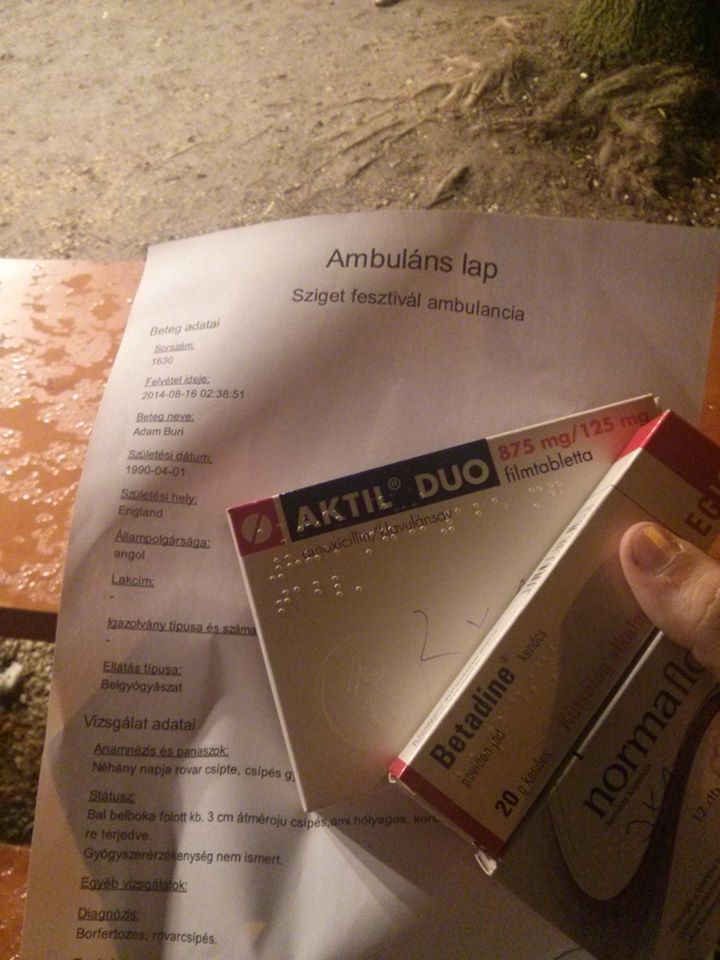 Rally
You've fallen asleep during the day. You've got a fucked up leg, or you're ill, or your clothes are wet, or there's ants in your tent or whatever it is today. That shit happens.
What matters, is how you deal with it - What matters is how you rally.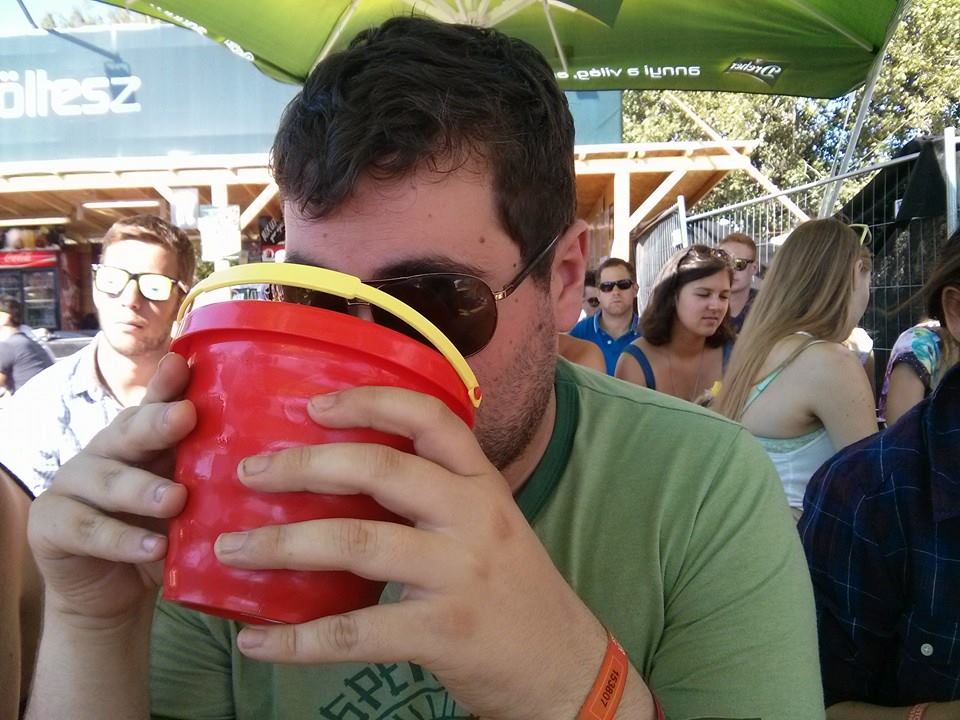 You turn your pain into a reason for Unicum, and your tiredness into a reason for redbull, and you get back out there. Rallying became a fine art at Sziget - We would have to all do it on a regular basis to keep the party going. And we did.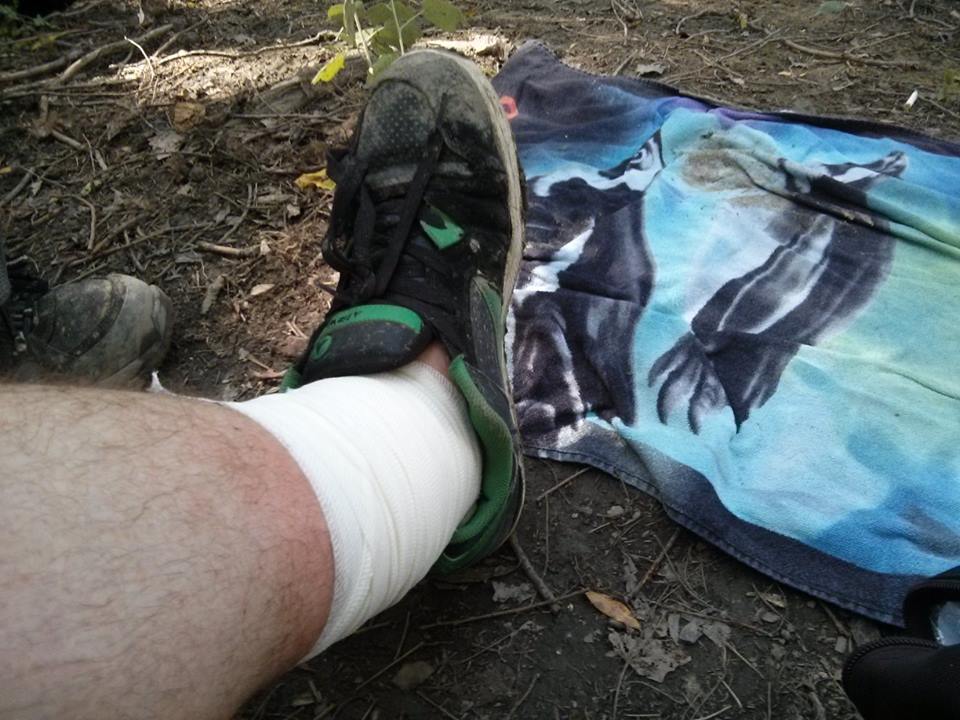 None of the crap could stop us enjoying the Prodigy, none of it could prevent us being at the Klaxons, keep us from being down the front for Manic Street Preachers, or silence us singing along to Bastille.
The People
The people of Sziget are incredible - They're doing everything you are. Sometimes they make it look easy, too. I still don't know how some people did it.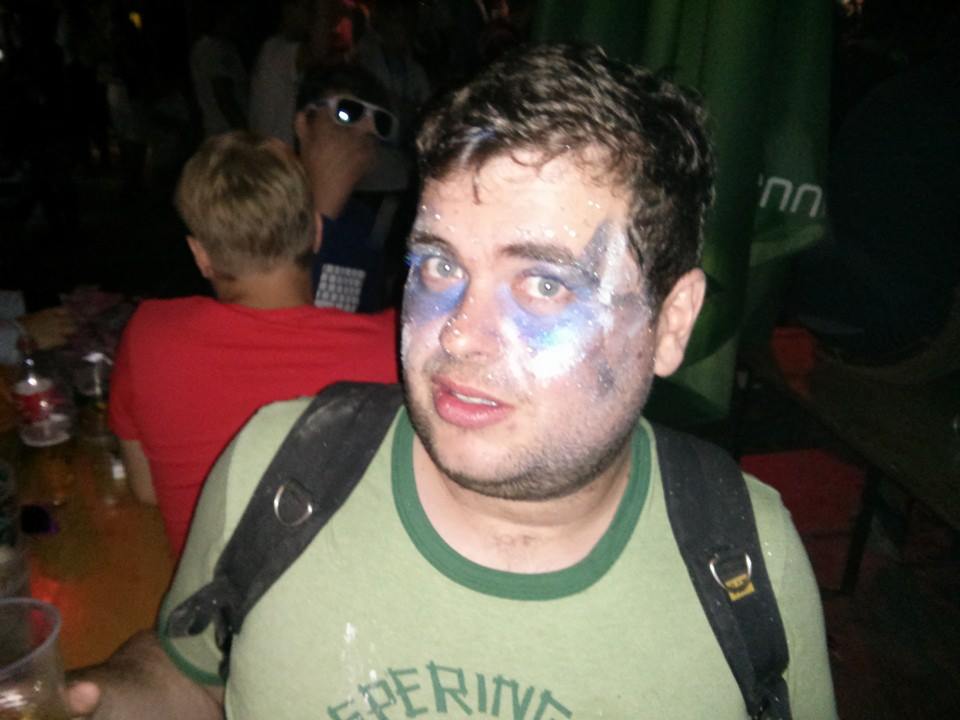 Importantly, everyone is super friendly. We had Jesse, the EDM-loving American guy camping near us. Bardaway, the dutch lightweight who's girlfriend was surprisingly forgiving of us wiping him out with a few shots of Unicum. Eefa the Australian who painted my face on the final night before we all waved our glowsticks to Calvin Harris' Finale Party. And so many more. Everyone we met was awesome.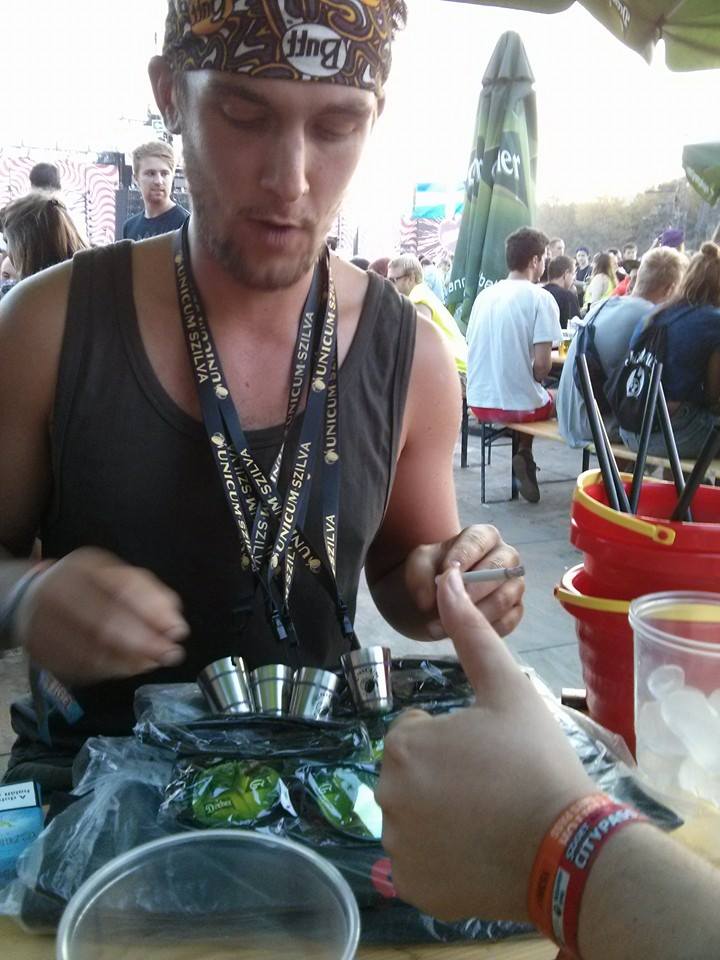 On our final night, Josh took his stash of over 50 Unicum tokens to the stand to be redeemed. Each item costs about 4 tokens, so he got quite a lot of stuff. He stood on the bench and threw free items into the crowd, and the reaction was brilliant. These were all our friends now. All in this together.
If you ever go to Sziget, make sure you say hi to your neighbours.
Aftermath
With the festival over, you'll need some way of dealing with the fact that you've just been ruining yourself for a whole week solid.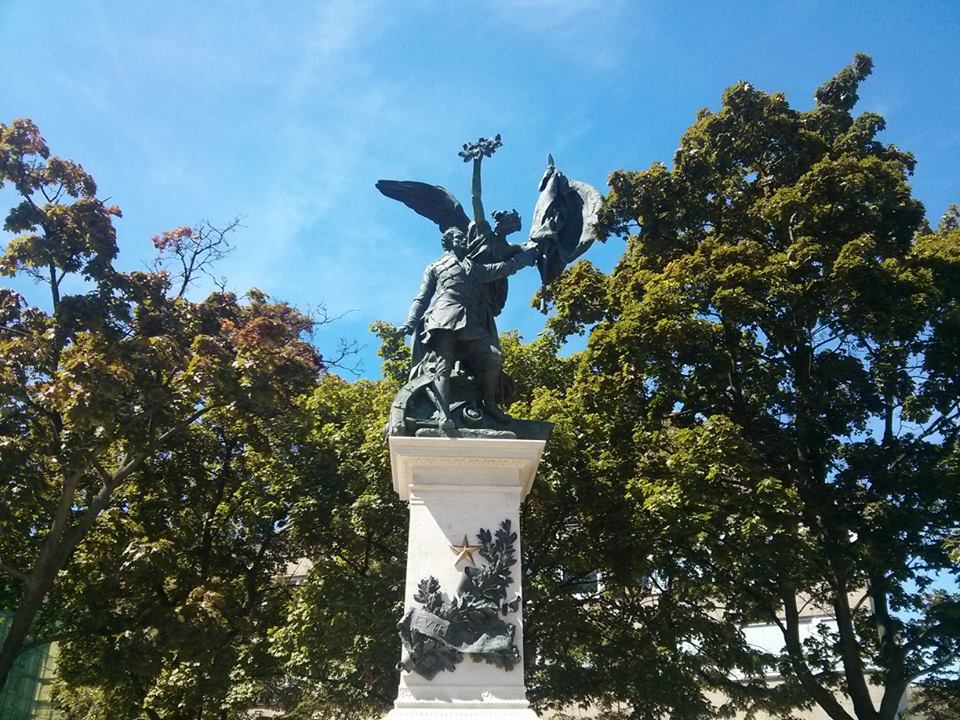 For us, that was spending an extra day in Budapest. We saw some sights (Incredible architecture), ate some goulash (of course) and enjoyed our hotel's pool and hot tub.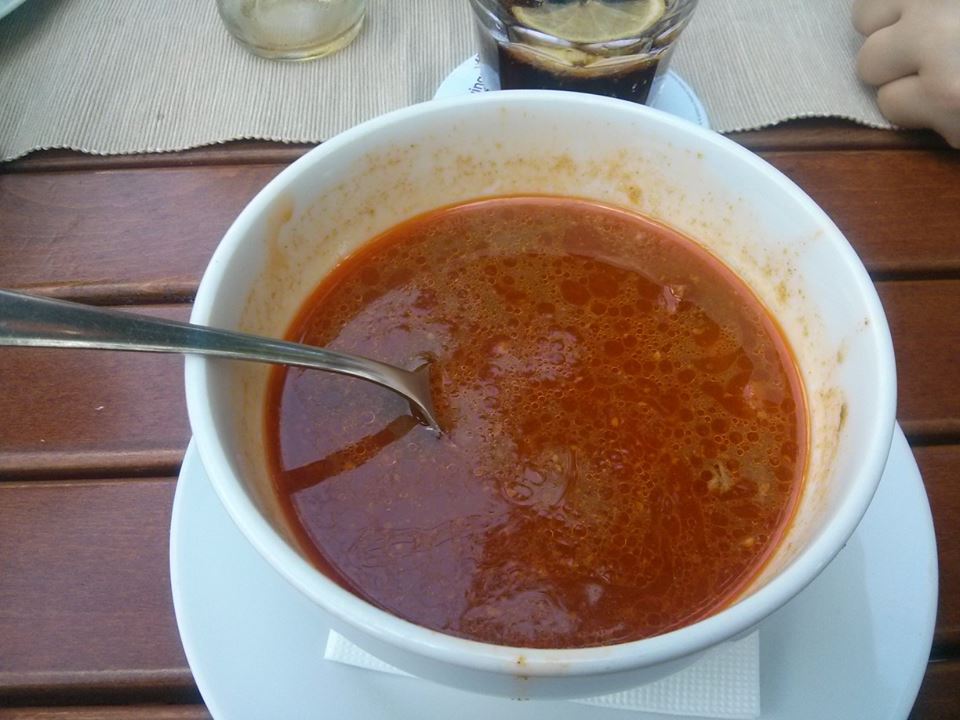 You simply must factor in a significant recovery time. It's several days later now and I still feel like crap - If we hadn't had the extra day before our flight... Well, who knows what would've happened. It wouldn't have been a good day.
The Draw
The final thing you need to consider is the Stockholm-Syndrome-esque feelings you will have when you are home.
There are no two ways about it. Sziget will leave you broken, devastated, wishing to never go to a festival again - But in a short amount of time... A day, or two, maybe a week. You'll start to miss it. We miss our ditch. We miss cumbombs, and hearing the Hardwell Remix of Taio Cruz' Hangover every day. The bright lights and lasers, the dutch people, and the comically large pizza slices you buy for like... No money.
Rocking chairs, Langos, bright green ice drinks, the floor in the art zone, pasta in a box, Dreher beer. The list is endless, all of it making you wish you just had a little more time, or that you could return.
After all, that's why this blog exists in the first place. It's an acceptance that no matter how hard Sziget is - It's an experience I will always be grateful for and cherish. I don't know if the stars will align and we'll end up there again, but if they do, or if anyone reading this decides to go, we'll all be a little better prepared for one of the best music festivals in the world.