Glastonbury in 50,000 steps
30 Jun 2015
If you've never heard of it(!?), Glastonbury is one of the world's biggest and best music festivals - Every summer (With a few exceptions), thousands of musicians of all genres and sizes descend on Worthy Farm for a long weekend of debauchery and good times. I just got back yesterday. I'm still tired.
I've actually been to Glastonbury before, and spoken at length about it and other festivals I've been to. So naturally, I wanted to give this blog some kind of twist - How can I present a bunch of rambling about Glasto without it sounding like every other post on the internet?
With DATA! Yay data! ... Guys? Is this thing on?
You see, while my phone was too feeble to retain charge for the whole festival, it did manage to stay awake for some of it. And that means it was tracking me. Specifically, it was tracking how many steps I took* as I performed some of the various rites and traditions of Glastonbury, so... Without further ado, here's Glastonbury in 50,000 steps!
*it's not very accurate
Start the party
6,674 steps
So, you've arrived. The stress of the travel is behind you. That fucking tent you brought is finally standing upright without you personally holding it there. You've long since cracked open that first beer or cider and now you've got the first evening ahead of you. It's time to start the party.
For us, this meant visiting the Rum Shack, which had surprisingly few rums on offer - Then a little wander took us to the Chameleon Bar, where we were treated to a regular occurance at Glastonbury: A Silent Disco.
With two channels to choose from on the nifty light up wireless headphones (One featuring mainly popular indie music from the 2000's and the other more power ballad central), the crowd featured some very enjoyable oxymoronic displays of dancing and singing. At one point I was doing my best Elvis impression while my friends were being serenaded by Phil Collins on the other channel. All in all, we danced up a lot of steps into the early hours of Thursday morning.
See a secret set
2,930 steps
Glastonbury features a lot of "Secrets" - Secret venues, secret paths, and of course, secret gigs. One such gig was up and coming band Wolf Alice playing on the William's Green on the Thursday.
This secret turned out to be pretty popular, so it was quite busy. These Wolf Alice guys are a pretty big deal... That restricted movement and ultimately it only came to a few thousand steps in total. But hearing "Bros" live was awesome.
Indulge in guilty pleasures
695 steps
No, I'm not talking about that dodgy looking kebab. Or some of the other pleasures people partake in at Glastonbury. I am of course talking about music which you should never admit to liking.
I found myself alone at a Guilty Pleasures party on Thursday night, shuffling to "... Baby One More Time" by Britney Spears. No regrets.
However, I did want to keep my composure and not look like I was enjoying it TOO much, so I only racked up several hundred steps. I must confess, I still believe.
The Breakfast Run

2,417 steps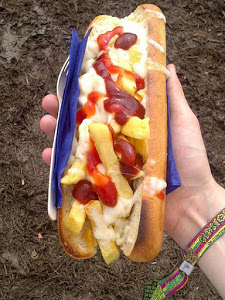 As festivals go, Glasto actually has some pretty amazing food on offer - With delicacies from all over the planet. There's even things which could be considered healthy. But let's face it, what you really want in the morning is something greasy and bad for you. I recommend "The Growler".
Named after popular Eastenders stalwart Pauline Fowler, the Growler is a bacon baguette which also happens to be stuffed with cheesy chips. Champion food. Plus, if you take a couple thousand steps to get up and stomp over to the van where they make them, you've probably burnt some of it off. Right?
Stop wishing for the sunshine (Start living in the rain)
2,453 steps
Ah yes, rain. Nothing says 'British festival' quite like people in £1 ponchos and caked wellies. This year the rain came mostly on the Friday, pouring down during Catfish and the Bottlemen and Jungle.
However, one thing you absolutely must do when it rains: Embrace it. You cannot wait for the sun to come out again, you need to make the most of this party!
The mud does ultimately make dancing harder, so in the end I only made a couple thousand steps during the downpour. But that's a lot better than zero.
The Naughty Corner
5,505 steps
The South East corner of the festival is colloquially known as "The Naughty Corner", and after the sun has done down and the headline acts have packed up their gear it's where most people head to have some fun.
One of the most popular and enduring parts of the corner is "Shangri La", a collection of nano-venues (Yes, even saying the word 'nano-venues' makes me feel like a hipster) organised around a central theme. This year the theme was political, which meant each venue was a political party HQ. But we weren't getting down with Nick Clegg, these were political parties with a Glasto twist. Shrinel Ritchie was a party dedicated to Lionel classics, The Slumber Party just wanted to sleep, and the BNP in this case actually stands for Beautiful Naked People.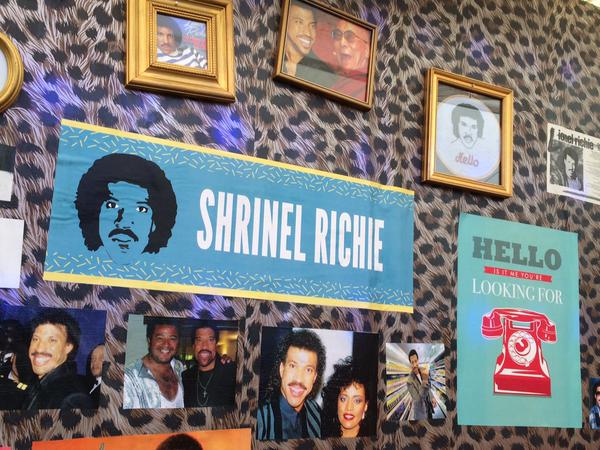 There's interactive installations and art galore down there, and a whole world to explore. All told, it took over 5 thousand steps to wander it and take it in.
Check out a new act
7,567 steps
A festival is always a great place to find new music you like, even if (like me) you do a lot of research ahead of time on Spotify. One of my favourite tents at Glasto is the John Peel tent because they regularly showcase this kind of act, and on Saturday they introduced me and my mates to Sunset Sons, who's particular brand of music was perfectly suited to the sunny early afternoon we were experiencing.
New acts are exciting because you never know quite was to expect, and having seen this set I expect to see them higher up the pecking order at shows for years to come. And if they could go ahead and release an album that'd be good, because over 7,000 footstomps can't be wrong.
The weird and wonderful
13,100 steps
It's not just about the bands y'know. Glastonbury plays host to a variety of culturally significant performances you can wander about and indulge in. And you should! In addition to cool art installations and views, you'll find a variety of outside the box acts including circus, cabaret, comedy, theatre, cinema.... And on one particularly fine afternoon, the zany and hilarious Hip Hop Kareoke at the Stonebridge Bar.
The premise is simple: People sign up and are introduced on stage with aplomb by the excellent host Mark, and then they proceed to unleash their inner rapper over the backing track of their choice. It's an absolute blast seeing these shy looking, unassuming people take to the stage... They look like butter wouldn't melt, and they're all normal people like electricians and accountants or what have you. And then they absolutely KILL it by spitting a Nicki Minaj verse or dropping some Jay Z.
I had a whale of a time watching this, and racked up a huge amount of steps bouncing along to almost 2 hours of people taking on the biggest hip hop hits and nailing it most of the time. My only regret is that I didn't elect to demonstrate my own mastery of Ice Cube's You Can Do It. Maybe next time.
Rock out with a band
3,004 steps
There were loads of good bands over the weekend, but quite frankly, my phone didn't track many of them. So here's a stat from The Other Stage, which on Sunday played host to Twin Atlantic - over three thousand steps, most of which I imagine were some kind of light bounce.
Sure, some of those steps are from stepping out to grab a pulled pork wrap, but the rest is all dedicated to one of the key festival experiences: Bobbing along as a band strum away on their guitars. It's got to be done.
Feel good
2,713 steps
When the sun is shining and the act is on form, the whole thing comes together to produce a fantastic feeling. On Sunday that was achieved when Belle and Sebastian took to the stage to dazzle with their array of melodic hits. As the camera's swept the crowd it was obviously a huge crowd pleasing set, and the energy was infectious - A great afternoon.
Because some of that energy went into nice arm waving, which my phone is not yet sufficiently able to track, it only came to a few thousand steps, but it was just what the doctor ordered.
See a headliner
?????? steps
On none of the days I was there did my phone manage to stay awake long enough to track the final major acts of each night that I saw. But it goes without saying that each night should end with a barnstorming performance! On Friday for me it was Hot Chip, and Sunday's wind down was pure perfection from Idlewild, but there was only be one person stealing the headlines at Glastonbury 2015.
Kanye West.
The reaction to his performance has been, shall we say, "mixed" online - But I can say as someone who was stood in that field, under him in that cherry picker when All of the Lights began blaring out of the sound system... It was sensational. I couldn't take my eyes off the stage and the setlist was incredible.
Yes, a couple of times he had to reset because the backing track came in too early or some bellend ran onto the stage. Yes, he's self obsessed. But I refuse to hear any arguments about Kanye's ability to produce music. My Beautiful Dark Twisted Fantasy alone is one of the best albums ever made. This was the highlight of the whole weekend for me - A stunning show from one of the best hip hop producers in the game. Petitioners and haters be damned.
Conclusion
This is the bit where I make some kind of grand, over arching finale paragraph to justify why I just wasted about 15 minutes of your time talking about what a shit pedometer my phone is. Maybe something clever, with a moral or like, a clever line? And really, I don't have one. You've all seen this festival on TV, you know whether you're interested... All I can say is that I'm thankful to have been able to go, thankful to my moral support who came along with me and made the weekend so fun. I don't know if I'll ever go again, but for me this experience was quintessential Glastonbury and I wanted to share that, in some way.
I hope that if you, dear reader, decide to follow this advice - it enriches your festival experience and you can have a good time like I did. At the very least, I hope it proves to be a step in the right direction.
Oh snap.